1. You can name more than 5 of their famous shower gels.
2. You can put the name of the following to their best selling product in the same range:
- Vitamin E// Vitamin E Moisture Cream
- Tea Tree// Tea Tree Oil
3. You own the Star Loyalty Membership card and have completed at least one of the reward card and redeemed the dollars off on products you have yet to try before (but you promised yourself you will, eventually...)
4. You spend more than a hundred dollars at every Atrium Sale (to get the free gift with purchase) even though you purchased TBS items just last month...
5. You end up explaining how each product works and adding this line: 'Btw I own this too!' to your friends whom you have pulled them into each TBS store. With you. Because you thought there might be items you need to lay your hands on. (Not forgetting you can earn your TBS dollars to be redeemed at the next visit)
6. You end up in one of their promotional campaign and seeing your face appearing at every store in town and even online! (gasp!)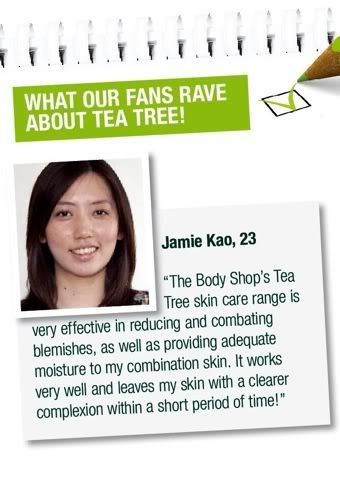 Now. How addicted are you to TBS?
<------>
This is supposed to be a tongue-in-cheek article I written for myself. Upon reflection, there is a ton of products I have purchased, hoping they work as well as promised but they dont.. and I leave them alone. Sigh. I admit I have a really bad consumerist attitude and am seeking some form of redemption(pun unintended). But of course, suffering from eczema does not help.. as I embark on a journey to end my skin woes. Just as I thought I'd be recovering, some environmental factor, stress at work or simply a slight change in my daily cleansing routine screws it up. I take this as a challenge to myself as I will become more observant about my skin condition and the products I apply. I have been looking to all natural ingredients and also vegan products lately, as SpaRitual is one such brand. It is time to be strict with myself, just as strict as I would love to be with regards to keeping in shape... Hmmm.
I will be back with more nail polish related posts :) Photobucket hasnt been working out for me. Boo.