27
In the spirit of giving and sharing, I would love to share the launch of a brand new e-store: MyLife-Store!
Different from most other online stores I know, My Life Store is an online wellness store that sells brands used in high end spas and resorts.
They include:
Sundari
VitaMan
SpaRitual
June Jacobs
Naturelle d'Orient
and homegrown brand Essence Vale.
Read more about the brands here.
The main philosophy of the store and the products brought in lies in Aromatherapy.
Using essential oils extracted in various methods to promote well-being and health with controlled use, aromatherapy is seen as a form of alternative medicine by some.
Essence Vale brand contains a line of essential aromatherapy oils like jasmine, lavender, geranium, lemongrass... You can use them in burners, or mixed with base lotions and oils to give an aromatherapy massage. Or simply bring them in your bag and drop a few drops on a piece of tissue paper and sniff it.
Essential oils vary in prices due to their different methods of distillation as well as the amount of plant parts needed to distil a certain amount of pure essential oil. Also, market forces play an important role in determining the prices. In India for example, they have since banned the export of Sandalwood essential oil. Hence, it has sent prices rising as much as 1million dollars for two drums of it.
One note of caution, never use essential oils on its own. Always dilute them to maximum 3% of the total volume used. i.e 3ml in 100ml of base lotion or oil.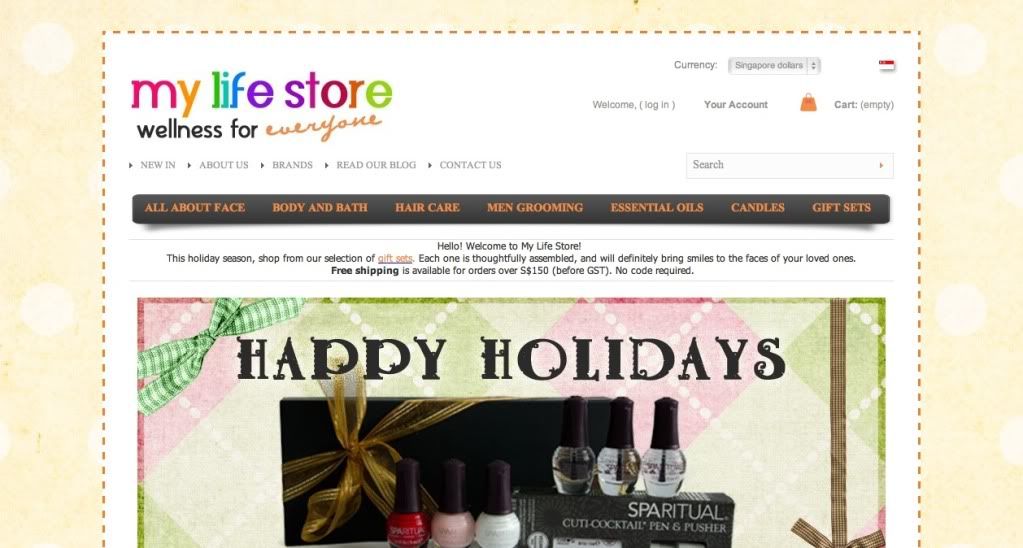 For the festive season, they have assembled Gift Sets according to price ranges. They come in a lovely box with a golden ribbon. Have them deliver to your doorstep or the person whom you are gifting it to.
You may find them on Facebook here.
Some trivia:
I came up with the SpaRitual gift sets, from the conceptualization of the theme, description and items to be included. It was fun! Thinking from various perspectives of the customer and nail polish lover, I hope you find joy in browsing through the gift sets and having someone in mind to give them to :P
Such is the joy of being the SpaRitual Singapore Ambassador ;P
What else would you like to see in this e-store? Share!