Hello all,
Im so excited to share this with all of you! This is one of my babies since I started working with SpaRitual Singapore :)
Ive always wanted to be taught the right ways of buffing and filing. Seeing buffing and filing tutorials on blogs dont exactly help me much cuz I have some difficulty applying what I have read on my nails :P So a trainer who will guide me along as I buff and file will be excellent! :)
Happening on the 17th of December 2011, there will be one such workshop held by SpaRitual Singapore! :D Fees for the workshop is redeemable for products- talk about add-ons ;)
Here is the poster and do sign up quick! Places are very limited and you'll get a goodie bag too!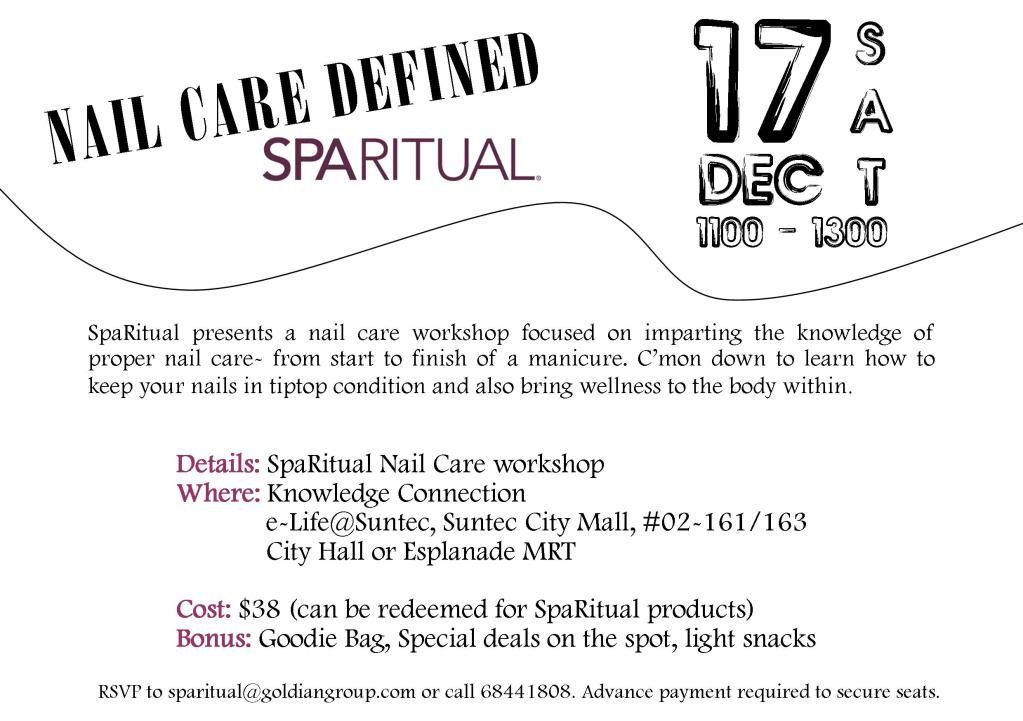 Click to enlarge! :)
Why SpaRitual?
It is 100% vegan and eco-conscious from the ingredients right down to the materials used in the packaging! With exceptional quality products, learning nail care is more than just acquiring good skills but you will be using spa grade files and cuticle care products to give yourself a good nail prep session at the workshop! It is a hands-on session, very literally. ;)
Our trainer is fantastic and she has helped my yellowed nails to make them look much whiter and presentable in just one session! I am gonna dig out the iPhone photos I taken for this incident and show it to you the stark difference :)
I cant wait for it to happen so do sign up right now :)