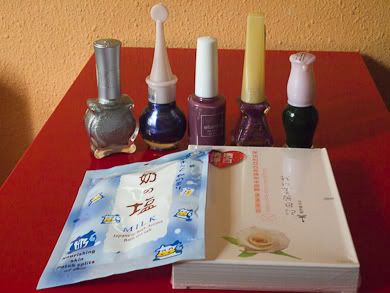 I have had a fruitful time blogging about my passion for nails and then subsequently, some haul and an occasional review on a beauty item this past year.
I am also glad to have met and 'met' so many of you, the regulars, who have shown me love, care and a lot of attention by reading and looking at my photos :D
This is to reward you all.
I have a few more polishes not shown in this photo above to give away together with the items as well. I will be blogging about the two items at the front in the near future and the 5 polishes in the photo are:
silvery glitter polish by Beauty Credit, dark blue shimmer polish by Nature Republic, a very dark purple/pink based griege (???) polish by Elianto, a sheer purple holographic particles loaded polish by Daiso and a dark green creme by Etude House.
I have 3 of those polishes and I use them in my nail art or for layering purposes. I believe they are really versatile for use :) Hope you will like them!
I will do a review on the Etude House polish too, I have a bottle for myself that I havent used :)
Here are the ways you can grab my attention and win this for yourself!!
1) Leave me a working e-mail address that belongs to you.
3) Let me know your views of my other blog @ squovalicious.8flo.net or click the link -->
4) Tell me about your best beauty secret for healing dry, chapped lips and/or dry and frizzy hair.
5) What is your all time favourite nail polish?
6) Whether you are sick of revealing so much about yourself hehe! :D
Open to all. I will end this giveaway in a few weeks' time... and I will announce it in one of my future posts :P
<3