Well, technically not a REAL DIY haha! But I thought it was a simple enough solution for getting more product out of badly designed containers!
Im pretty conscious about my hands and feet. If they are dry and peeling, I'll get pretty irritated! But i guess one cheapo (cheap-skate) way is to 'try' out moisturizers in department stores (those labelled as testers only!) on those dry hands and cuticles :P I havent actually done it before. hhmmm
This is one product I got to help make my hands soft and prepared for a self-mani...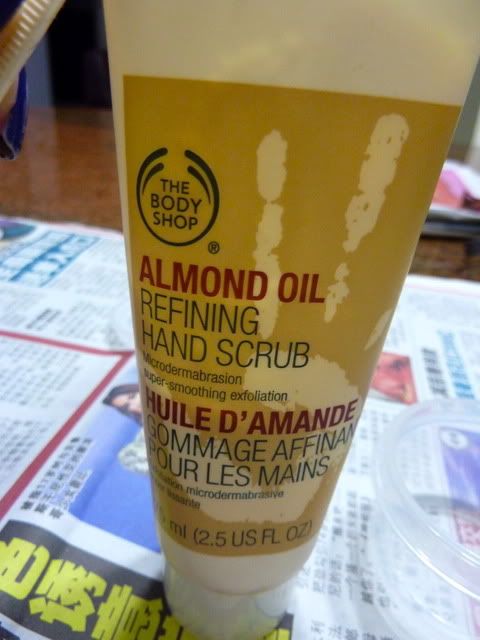 Yep, a Bodyshop item. I was on a BodyShop craze earlier last year, I have almost all the shower gels (including seasonal ones) and other bodycare items :P
Almond oil is said to help soften and moisturize skin, and the scent it pretty nice to me, so yea I got it. :D
It gives off a warm feeling when u start rubbing them all over ur hands, focusing on the cuticles... and thats the almond oil! I use this as a last step in my shower so that I can pat my hands dry after :)
The only problem, is that the oil tends to collect at the bottom of the tube, however u place it, gravity. So while I get the buttery scrub bits, the oil tends to ooze out or not!
So, that day, while I was at Daiso shopping for sample sized containers for some items for my swap, I bought this: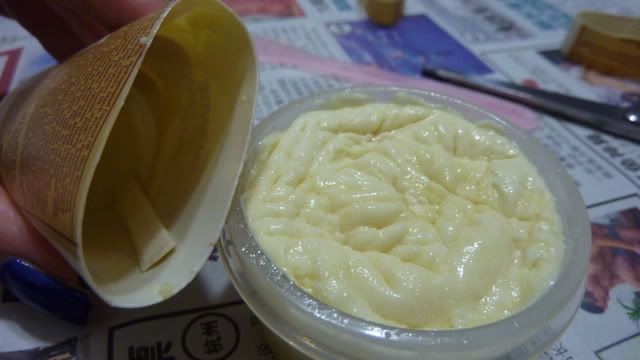 The plastic tub that containes up to 100ml of product or is it 75ml? there about...
I cut open the tube from the top and using a platic spatula, I scooped them out onto the container! I soaked it in hot water to try to sterilize it :P Not the best way I know...
Then using the spatula, scrap out the remaining bits and try to mix it up a little :)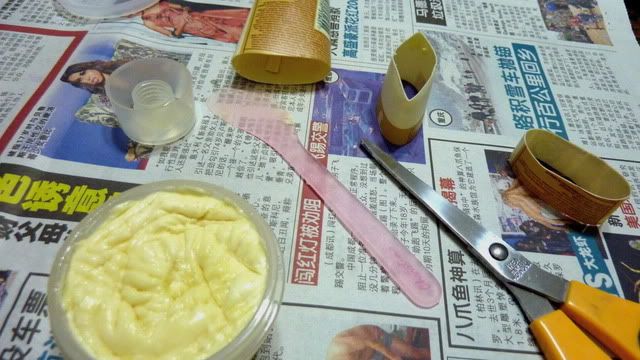 The items needed :D
I did the same for my foot scrub: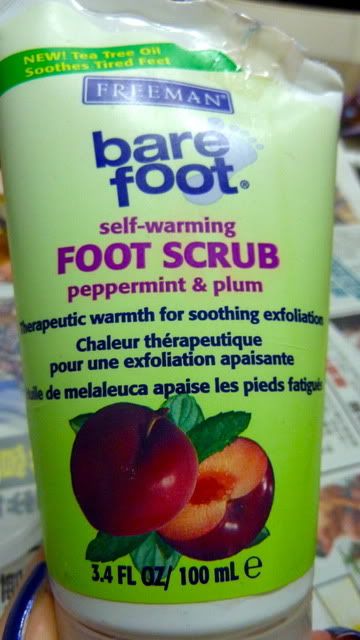 See the scotch tape at the top? I squeezed the product too much that the top burst! Like a ill-fitting dress!
It is self-warming too but I dont feel it much on my feet as on my hands :/ But the smell is not too bad :D
This is how it looks like:
Yes, you see some purple liquidy thing? It either flows out too much or not at all!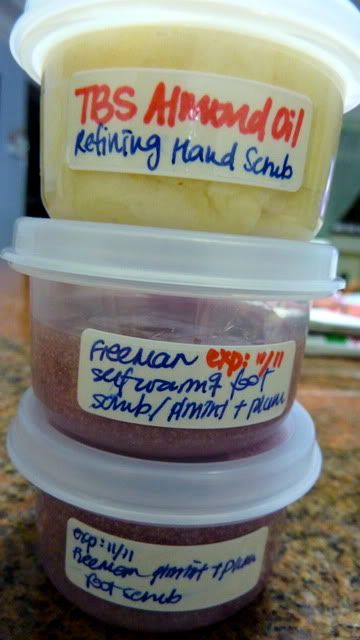 So I did the same as above, cutting, use spatula and voila! :D Freeman's a bigger tub so I needed 2 of my containers.
So next thing was to label them: expiry date and all! I used scotch tape over the container before using the sticker so that there will be not remnants of the paper sticker when I decided to re-use the containers next time :) and add another layer of scotch tape so that the ink and sticker wont go all wet and bad when using them in the shower!
It was pretty fun to do all these, I minimized space in my cabinet as well :D
Bad packaging can be forgiven, if you know how to get away with it with minimal hassle ;)