Used 5 different polishes for this look...
Thumb: Barry M Lemon Ice Cream (thin formula, needed 3 coats), Nature Republic's GR 602 (paler green than in photo, think apple green), The Faceshop's YL 701, Elianto's Yellow/#23, Essence's Sundancer :)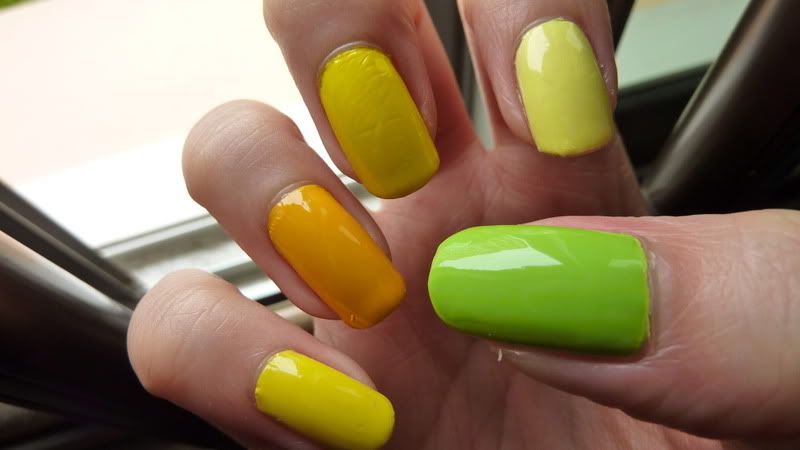 See the sheet marks there? LOL The pastels were kinda hard to apply, a little thick so my layers became pretty uneven. Maybe a little thinner might do the trick? :/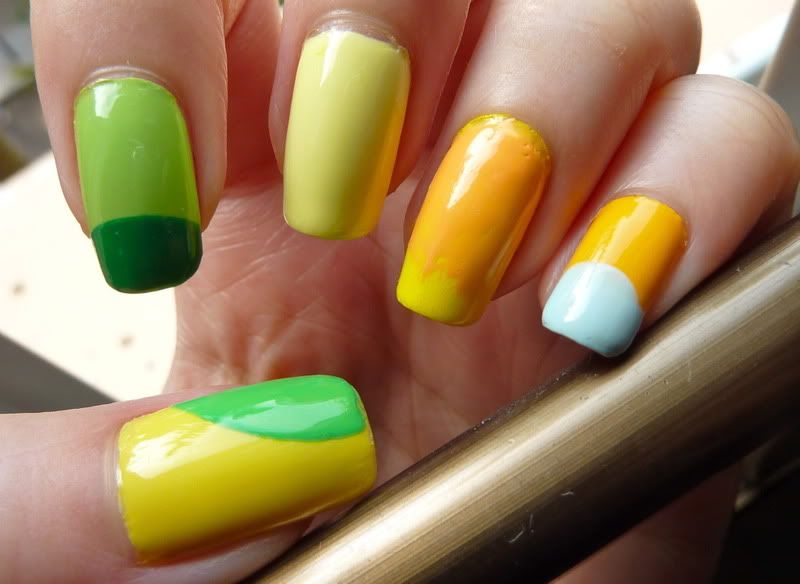 2nd and I was kinda bored... so I added stuff*
The lighter green on thumb is Essence's Check Me Out, the darker green on index is Essie's Pretty Edgy, the orange on 4th finger is The Faceshop's OR201 and the blue is The Faceshop's BL601..
*phew*
and tadah! I had fun doing this, although I changed my mani that evening LOL.
I relied on some lousy nail guides meant for French nails. The sides kept lifting as it dont adhere well to my nail, or maybe my nails are too curved? :/
Thanks for all the lovely comments so far :)) Im fast approaching another milestone, BUT whats more important is the friendships I have forged with some of you, whether through e-mails, inquiries or swapping :)
<3 to all and sending positive energy to you if you ever need to feel uplifted!