One of the things I was most excited to try out from SpaRitual has to be the TruBond system. It consists of a primer for natural nails, base coat and top coat. All specially designed, as the name suggests, for polish to bond perfectly with your nails to achieve a long-lasting, chip-free manicure/pedicure.
However, I was unable to get my hands on the full set then, so I tried the
TruBond primer, Lacquer Lock Colourstay Basecoat and the Impeccable Topcoat
. This is
not intended to be a full review of the TruBond system
sorry...
If you remembered my finger swatches sometime back with SpaRitual and a variety of brands of lacquers... It was done on this SpaRitual nail system.
These photos are taken at the end of 5 days of wear. With excessive scratching every night :P My nails usually chip in 2 days with tip wear from scratching...
The bubbling occurred when I used the top coat. Impeccable topcoat is pretty thick and my bottle had a lot of bubbling which I did not notice until... :/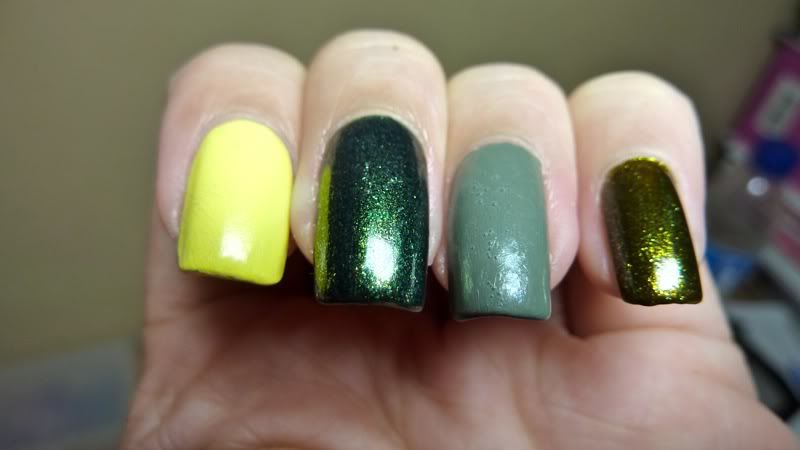 Left hand suffers less tipwear as I scratch with my right :P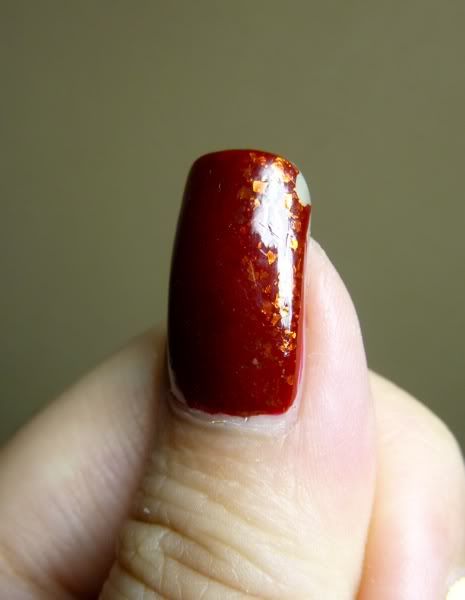 This is Nfu Oh #59 over a SpaRitual red polish.
The chipping was due to my picking at cosmetics labels on haul stuff. And I attribute the frequent chipping to my use of pure acetone remover. About this later.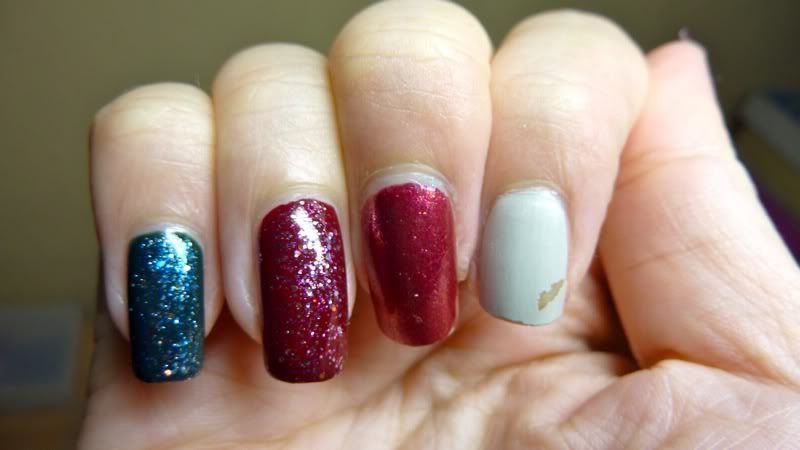 I cut some length off my index finger here because of the tear. The polish flaked off where the tear was. And boy, it hurt. I have very thick nails actually so for it to tear... my nail must have been through great distress and is very brittle. (unable to bend). This is the result of pure acetone usage once again, as I have never used so much pure acetone in such a short time...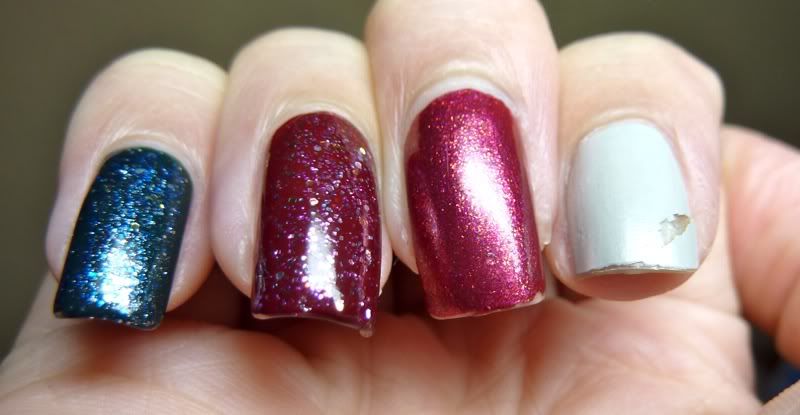 You can see some tipwear as well... and slight chipping at the tips too. This is after 5 days of wear.
Overall I am pretty impressed with the system, although I mismatched them. Topcoat was glossy and SpaRitual polishes dried fairly quickly as well! As you can tell, my nails grow out pretty quickly in just 5 days and going with the same polish for 5 days is also the maximum for me.
I might go try out the TruBond system and report back with the findings. What say you?
*Pure Acetone usage
I realised that using it for a few weeks consecutively, about 3 times a week, my nail plate gets very dehydrated after even just one swipe of the solvent. And having not been consistent with LUSH Lemony Flutter, my nails were in a bad shape. Except that with polish on it, I cant tell. And the breakage is simply evidence of that.
Now I have switched to using SpaRitual Fluent Extra Strength (with plant-based acetone) Polish Remover. Smells great, it's Italian Red Mandarin essential oil... and removed fast. I have tried it with glitters as well! I still use my pure acetone occasionally, but to finish up the removal I swipe my nails with the SpaRitual. And there's a distinct difference, the nails with pure acetone are matte and dehydrated. *shudders at the thought of them* Use pure acetone with caution ladies! Some have added glycerin to achieve a Zoya Remove+. Which do you prefer?