Thanks for the lovely comments once again :)
Recently, I joined a drugstore.com spree and gotten myself some eos lipbalms (i mean, 3) and a Queen Helene Mint Julep Masque :)
I have so many goodies stashed up Im not keen on opening them all at once so here goes the review: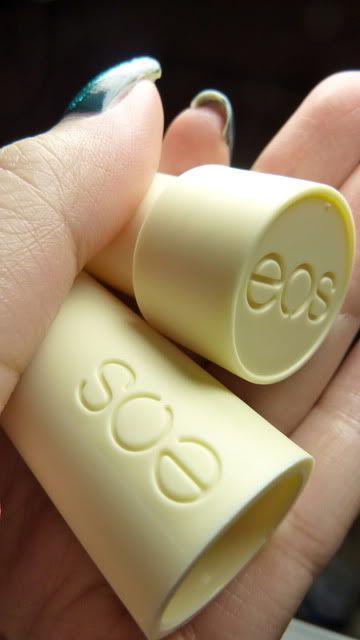 Loving the sleek packaging, although it is a bit chunky compared to most lipbalms... But the rubbery matte texture is pretty cool, albeit it picks up all the dirt and dust in my bag.. :P
Here it is looking pretty...
I love this quite a bit, it goes on smoothly and as the diameter is big, just 2 swipes need for my whole lip. And my lips arent thin to begin with so I would say it is pretty perfect for me :)
The scent is Vanilla Bean and indeed it smells exactly the way I expected, not too overpowering sweet vanilla scent too. My bf likes it too, no complaints there.
Easy to locate in my big messy bag but as I mentioned it gets dirty easily, so I better get a smaller pouch for such items in my bag next time!
It moisturizes just fine, does not make my lips water like Lipsmackers do. Im not sure if you got what I mean... let me explain. I have dry, cracked lips even in the local humid weather. Sometimes I apply my Lipsmacker on my clean lips but an hour or so later, I feel some kind of liquid on my lips, it's not oily, I figured it's like water... It feels weird and my lips do not hydrate well... too. But this does not happen with eos. Instead I like to wear this underneath my Revlon Soft Nude lipstick so that it does not look all that bad :P
Whats your reviews on eos? I have seen a lot of bloggers blogging about this and raving about it too ;)
I also have just acquired Hada Labo's Super Hyaluronic Acid Lip Gel but have yet to use it... Will hope to post an updated review of this with a good comparison on both items :D
Here's a pic to show the size of eos:
it is thicker than NYX round lipstick, Burts Bees Lip Balm and The Body Shop's Lip Scuff!
Longer than all of them too.. but closest to NYX Round Lipstick..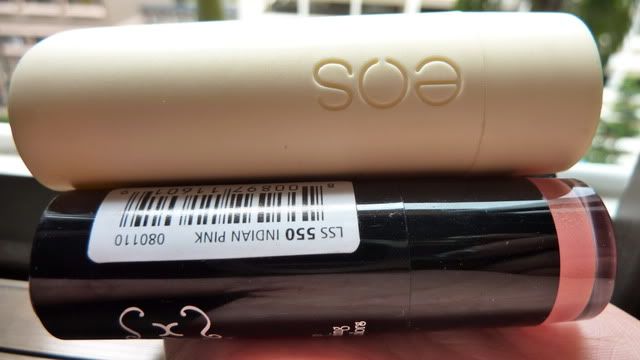 :D