Hiya, been a longggg time. Sorry about it!
My final year is getting into full swing but I also have lots to report on!
First up, an old NOTD with Trendsetter, a dusty forest green that is pretty chic and looks good with my fair Asian skin :)
Added some dots, as inspired by happyberrynaiad, to an accent finger, using the nail brushes that come with the lacquers... indeed, I had to be careful..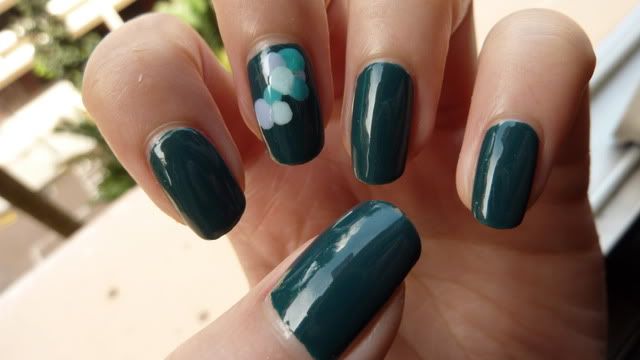 Looks less dusty in the sun...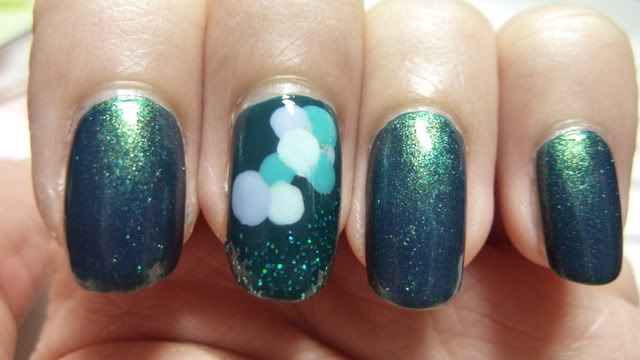 Bored on 2nd day so I added some sheer lacquers from Sasa over them... and on the accent finger, that's Color Club's Untamed Luxury on the tips... decided it looked yucky. LOL. Btw, i feel that China Glaze's Atlantis is a near dupe (or vice versa) to Untamed Luxury! ahhhhhhh.
Love this gold-green look actually...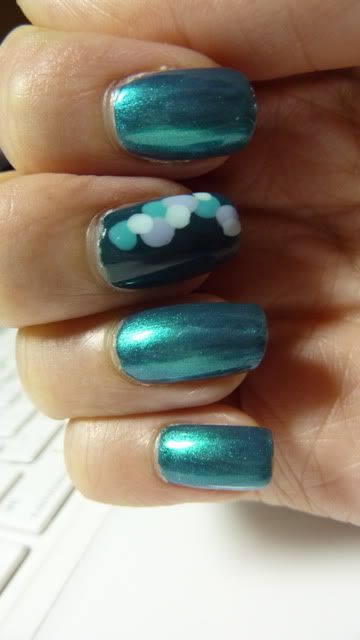 And this turned out pretty frosty, with a light blue sheen... Not too bad either. :)
Overall, this Essence polish is gloopy, a tad thick to work with. U could use a few drops of thinner but I was lazy and I used 2 coats for a good coverage. Shines well without Seche, but I used anyway since I headed to bed after I did my nails :) Love the colour on me and had fun layering over it :D
I have to continue using Lemony Flutter, been a lazy ass. No discipline! *spanks*
Till the next post, I have to dig out my BeautyAsia 2011 buys and showcase them in a mega post. Phew~