I know many of you are lusting over this colour. It is a gorgeous green with gold shimmer in it. Dark forest green base...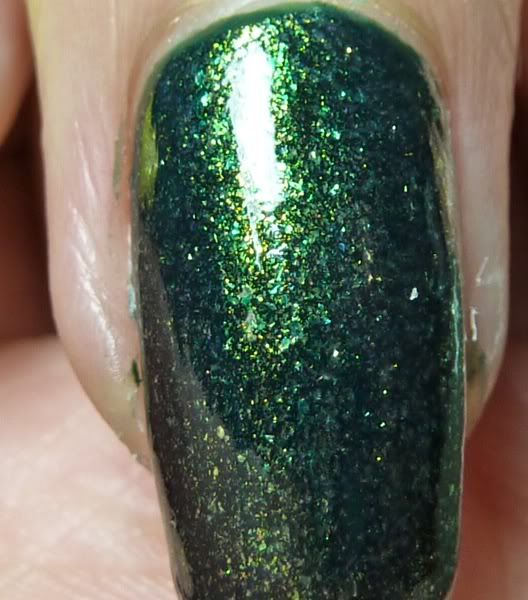 Did this over SpaRitual Twisted Vine. Another simple lovely green. I should do a swatch post for this alone soon.
Heh.. Yes this is pre-clean up, had lacquer all over my finger :P
Here is what my finger swatching looked like:
From left: SpaRitual Mellow, Elianto Racing Green over SpaRitual Twisted Vine, Essie Sew Pysched and SpaRitual Optical Illusion
Encountered a serious case of bubbling with a new topcoat. I figured it will get better; I probably shook the bottle :/
Mellow is a nice pastel yellow, quite unlike my Barry M ice cream and Elianto's yellow. Needed 3 coats to get a good coverage. Very nice to wear it on its own.
Sew Psyched is a Fall colour in my opinion, very dusty, very vintage looking even. Application took 2 - 3 coats for myself. I had some bald patches at the start haha, I wasnt paying attention :P I have always loved Essie's brushes and colours!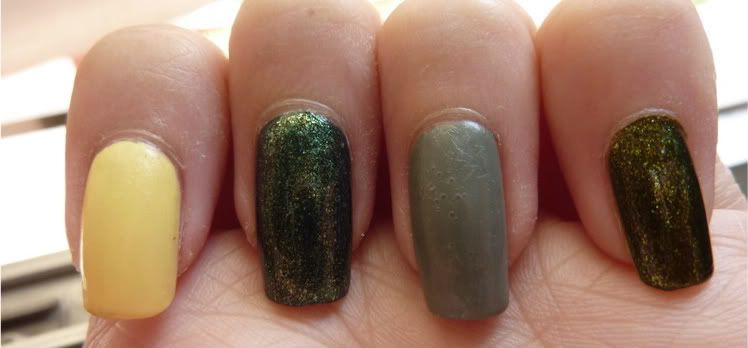 These photos show CND Jason Wu collection's Anna effect in action. Have applied it over Mellow and Sew Psyched.
Yes it might like look little hairs sticking out and on the nail haha! It is supposed to be a tweed effect which I kinda liked! Gives a little matte effect too. I know it's a love or hate thing :)
I will do a complete post for the Jason Wu collection in a bit! :D