I have always liked layering for my nail polishes. And boy, was I excited to receive Nubar 2010 in a swap and also bought myself Color Club's Covered in Diamonds in a spree.
Before I show you the photos proper, let me give you my thoughts on both of them.
Some might think that these two are essentially the same, ie you need one, not both. I disagree. Covered in Diamonds is made up of those iridescent flakes of plastic you see in ornaments around Christmas time. And they do poke out of your nail and create a gritty surface when dry. Seche Vite or a good thick topcoat is a must to smoothen it out.
Nubar 2010 on the other hand, is a flakie polish that is not made from plastic. Most likely it is from fish scales. (Not vegan). It is smooth to apply, might poke out of your nail but nothing a little wrap can do. Is not as gunky as Covered in Diamonds, as after a few uses the polish thickened a lot and makes spreading the plastic bits around quite difficult.
Both are equally stunning on their own layered over a dark colour. But here, I layer them on each other over a dark colour.
Here it is over a dark green creme: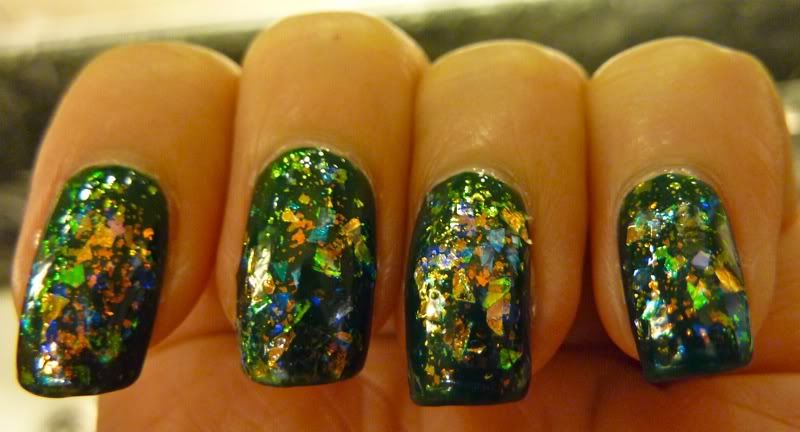 See the fiery flakies from Nubar 2010 dancing over the islands of shimmery iridescent flakes from Covered in Diamonds?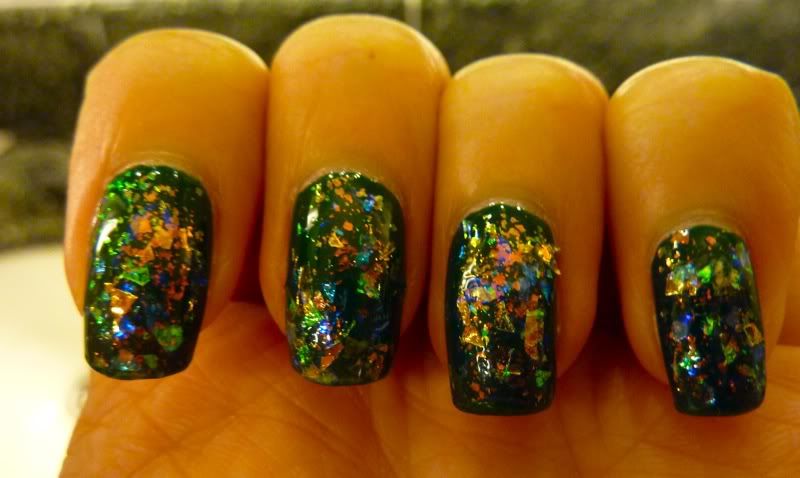 Look at the third finger from the left. It seems too concentrated in the middle here. Thats what I meant by hard to maneuver it around...
This hand I have black creme as a base: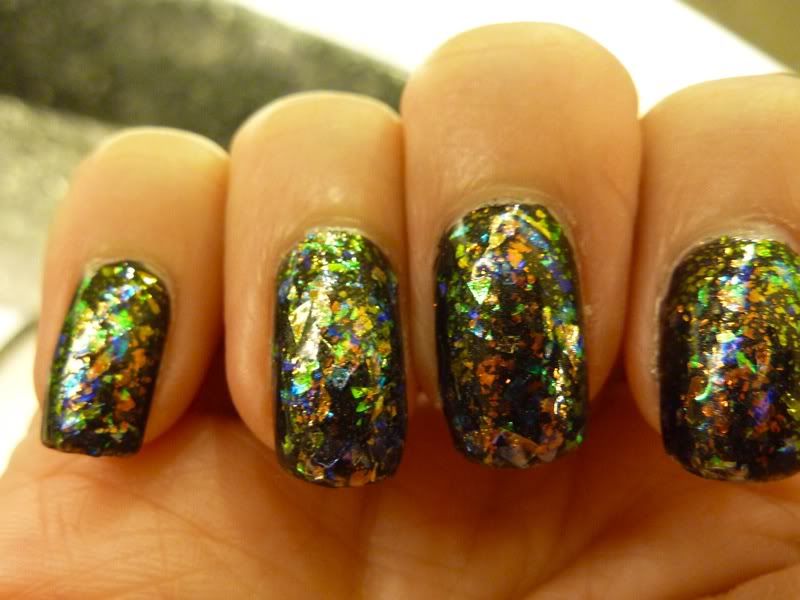 Nubar 2010 seems more evident here.
This is because I used it all over Covered in Diamonds. The previous one you saw was Nubar 2010 layered over the dark green creme.
I prefer this one. Very magical :)
What about you?